Homestead Animal Farm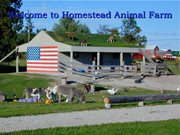 Homestead Animal Farm is a century old farm that has been in the family for over 133 years. Today our farm has miniature donkeys, alpacas, pygmy goats, dairy goats, sheep, turkeys, peacocks, pheasants, potbellied pigs, rabbits, ducks, geese, chickens, cats, and a dog.

Corn Maze:
Take up the challange of our 4.4 acre corn maze! There are three games you can participate in as you find your way through the maze. Each participant will be given a maze punch card. Within the maze there are 12 checkpoints to find with uniquely shaped paper punches. As you find a checkpoint you will punch your card. There are also seven multiple choice questions in the maze. Each participant tries to answer each question correctly and then write down the letter under the correct answer. If you answer all seven questions correctly, you will have seven letters to unscramble. Figure out the mystery word and find all 12 checkpoints to complete the maze.

Picnic Area:
Make a day out of your visit to Homestead Animal Farm by enjoying a picnic lunch here. We have a scenic picnic area where you and your family can take a break and enjoy your lunch and refreshments. After lunch, take a hayride tour of the farm!

Children's Play Area:
In addition to the maze, hayride, and animal area, we've added a big play area opportunity for the kids. They can pose on the antique tractor, play the "musicial instrument" display, engineer magnetic tube systems on a huge white board, and romp in the giant corn box.

Pumpkin Barn:
Be sure to stop in at the Pumpkin Barn when you visit our animals or come to try the corn maze. We sell pumpkins, gourds, squash, Indian corn, corn bundles, various sizes of straw bales, maple syrup, and Homestead honey. We offer an I Spy Hayride around the farm where participants look for special objects displayed along the hayride trail and match them to a list of items posted in the hay wagon.

Farm Animals:
We offer a great opportunity for visitors to get up close and interact with a variety of farm animals. We have everything from donkeys, goats, sheep, and an alpaca to rabbits, geese, ducks and chickens. You can even hold baby chicks! Stop by, the Homestead animals are waiting to meet you.
Latest Reviews
There are no reviews for this listing yet!