The "Hayless Ride" - Cloudland Canyon Offers Allergy-Friendly Hayride
March 9, 2020 By Chris B.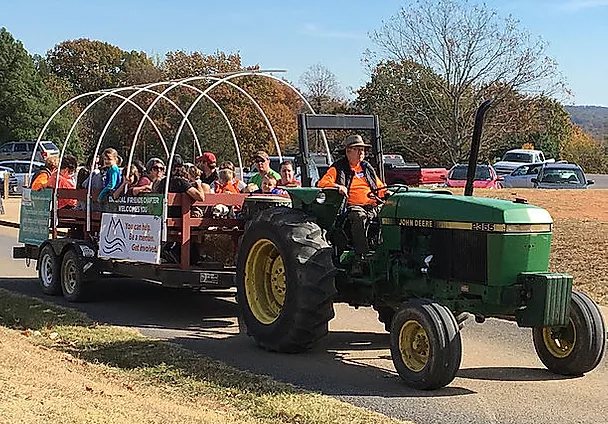 Cloudland Canyon State Park is now offering "hayless hayrides" for people with allergies.
Photo by:
Cloudland Canyon State Park
The entire family will enjoy a tractor-drawn hayride through Cloudland Canyon State Park this year! Hayrides will be offered every Saturday afternoon this upcoming 2020 spring season.
Hayrides will depart from the start of the disc golf course and run continuously from noon through 5 p.m.
New this Year: Do you or a member of your family have allergies? On Saturdays the ride will be hayless so you can enjoy all the fun without worry!
With or without the hay, your hayride admission includes family-friendly activities such as games, temporary tattoos, bubble station, sandbox, sidewalk chalk and coloring. The activities will be open from noon to 6 p.m. Hot dogs, soft drinks, snacks and warm apple cider will be available for purchase.

Plus: Cloudland Canyon offers hiking, biking, pond fishing, disc golf, picnicking, camping and Interpretive Center programs. Plan to spend the whole day in the beautiful outdoors!

Admission for one hayride and all activities is $6 for adults, $3 for children 2-12, and toddlers under 2 ride free. If you don't have an annual pass, there is a $5 per vehicle State Park parking fee.

Cloudland Canyon State Park is located on Lookout Mountain on Highway 136 at 122 Cloudland Canyon Park Road in Rising Fawn, Ga. Located just minutes from Chattanooga and Trenton, the park is one of the most popular recreational locations in the region. It is praised for its beauty, friendliness and the many activities available for those who want to explore.
Hayrides and other fun activities are staged by Friends of Cloudland Canyon, a 501(c)3 nonprofit organization dedicated to supporting Cloudland Canyon State Park by recruiting volunteers and sponsoring events to raise money for the park. All proceeds from Fall Fun–Hayrides & More! will be used for the direct benefit and support of Cloudland Canyon State Park.
For more information, visit http://www.friendsofcloudlandcanyon.org.