Positive Seekers' Spring 2020 Hayride, Other Events Planned
March 17, 2020 By Chris B.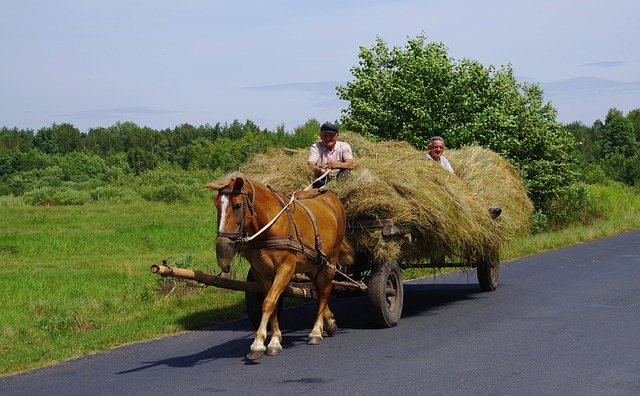 The Bucyrus Hee Haw Hay Ride will be held on Saturday, April 11th, 2020.
Photo by:
jozefbabij
Positive Seekers spring hayride of Bucyrus, Ohio is now called the Bucyrus Hee Haw Hay Ride. It will be held on Saturday, April 11th, 2020, from 4 PM to 6 PM. Rides will be departing from two locations in Bucyrus and circling back to their starting points. Children must be accompanied by a responsible adult. Cider and donuts will be provided. We will reject underage riders who are not accompanied by an adult, riders who are intoxicated, and riders who are dressed inappropriately. This is a FREE event!
Look for our T-shirts to go on sale soon. Example shirts will be placed in cooperating store fronts along Sandusky Avenue, and orders may be placed at the Vasil Company, 119 East Mary Street in Bucyrus. Prices are $13.00 for neon colored shirts, $15.00 for tie dies. Proceeds cover the cost of the shirts, with the rest donated to future Positive Seekers events.
Speaking of future events, a chili cook-off challenge will be issued to other Bucyrus civic organizations, with a date and location for the event in November to be determined. As with all Positive Seekers events, this one will also be FREE, and FAMILY FRIENDLY! Participating organizations get the chance to present your organization to the general public, BRAGGING RIGHTS, and our deep, sincere gratitude!
Positive Seekers is a non-political, independently-guided non-profit citizens' group that emphasizes positivity about Bucyrus and its neighboring cities, and seeks to bring new opportunities for fun, safe, family activities to the Bucyrus area. Positive Seekers meets every Tuesday at 6 PM in the community room of the Ridgewood Senior Villas, 1065 Beal Avenue East, Bucyrus. All Crawford County citizens are invited to attend.
For more information, contact Carolyn Shireman at 419-689-2761 or Joe Graham at 419-569-4177, joegee@columbus.rr.com.