Red Run Holiday Nightmare, Horror Night at The Asylum & Origins Haunted Hayride Begin at Haunt Manor 2020
February 24, 2020 By Chris B.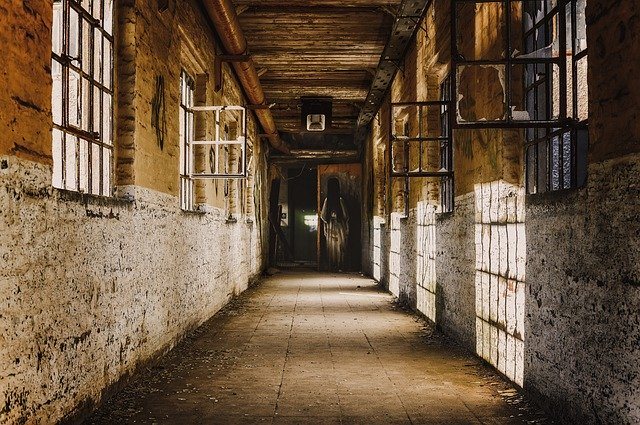 Haunt Manor Hayrides and Haunted Houses will feature a brand-new, 5000-square-foot maze in 2020.
Photo by:
Tama66
The origins of all things paranormal will unfold in the 10th season of Canada's Largest Halloween Screampark.
Haunt Manor Hayrides and Haunted Houses will feature a brand-new, 5000-square-foot maze called Red Run Holiday Nightmare for the upcoming 2020 season, featuring dozens of holiday horror characters this fall, as well as a gigantic Asylum Prison Haunted Attraction featuring the original Don Jail cells.
"Red Run has been added to the haunted hayride as a special surprise ending for our guests in our 10th season. We also added a fully scripted Hollywood storyteller for the new Haunted Hayride which we call Origins that will play on a screen throughout the entire Hayride. Everything has been taken to a brand new level," says Phil Van Kleef, owner of Haunt Manor.
Haunt Manor is located on a 24-acre family estate in the countryside and features over 500,000 square feet of indoor and outdoor haunted attractions, trails and mazes. The staff are constantly creating new sets, scares and thrills and take it to the next level using the latest in Dark Attraction and Halloween technology making Haunt Manor one of the largest Scream Parks in the world. They have been named the scariest attraction in the country by Fangoria magazine and have been featured on the Weather Network, YTV and others. This will be the biggest season ever featuring three brand new attractions, a huge midway with a beer garden, all new illusionist performer, Ryan Brown, musical performances by Late Night Stage Fright and an on-site axe-throwing facility.
On top of the current impressive roster of over 10 Attractions are:
1. Origins of Haunt Manor - The Hayride
Discover the origins of evil and all things paranormal on this 25-minute haunted hayride experience as it dives deep into the back woods of Haunt Manor. Master storyteller, award-winning poet and actor James Owen Brown will take you on a creepy journey this Halloween season.
2. Red Run Holiday Nightmare Trail
A touch of Christmas mixed with Easter and add some Saint Patrick's day to Haunt Manor style of horror. This new trail will feature some of your favourite characters that will frighten the wits out of anyone who enters.
3. Asylum – Horror Night
Canada's world famous Don Jail in all of its originality is brought to life here; but this season it's something different and darker. Enter their asylum and experience a new level of terror behind their cells. These were high-security prison cells that were used in the final hangings that took place in Canada. One of Haunt Manor's largest and darkest attractions has been brought to a new level with horrific sets and over 5,000 square feet of haunted asylum to explore. This is the ultimate horror fan experience.
Begin your descent into the dark corners of Dark Raven Manor, Dead End Diner, Rotland Outdoor Cemetery, Creepers Corn Maze and much more. Haunt Manor has been innovating brand new freaky and creepy costumes unseen anywhere in the world in their on-site studios and employs 120 staff and monsters. With attendance reaching over 10,000 per season, their creative department has worked year round to take customer thrills to a new level with 10x the scares, frights and stunts.
The experience will unfold this Saturday, September 26, 2020 for opening night and be open weekends from 7pm until 11pm. Start out your night with opening music acts and performances by Late Night Stage Fright and Illusionist Ryan Brown as he performs dark magic live on stage three times nightly. Get your photos taken with your favourite iconic monster in the Midway and or just relax in the beer gardens. Grab some Haunt Manor swag at their new merch zone.
And if this 90-minute experience is not enough for you, book an Escape Room, Axe Throwing or a game of Combat Laser Tag all on-site this fall. All tour packages and events are available on site including camping at the resort Campark Resorts.
All ticket information, tour and event bookings can be purchased on our website www.HauntManor.com, on-site or by telephone at 1-844-466-3727.