St. Louis Cardinals Fans to Take Hayride at Busch Stadium
June 26, 2019 By Chris B.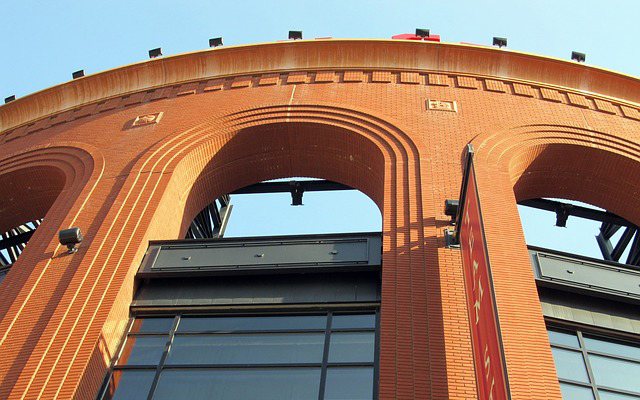 Busch Stadium, home of the St. Louis Cardinals.
Photo by:
skeeze
Eckert's Country Store and Farms are offering St. Louis Cardinals fans a once-in-a-lifetime chance to take the field at Busch Stadium…for a hayride behind a Big Green Tractor! Eckert's has partnered with the Cardinals, creating a contest via their Facebook page where lucky fans have the chance to win tickets to an upcoming Cardinals baseball game, logoed T-shirts and on-field passes to take a pre-game hayride on the field at Busch Stadium with Fredbird.
To enter the contest, potential 'hayriders' need to Like the Eckert's Facebook page, click the 'Hayrides with the Hometeam' contest link, and upload a photo of their family enjoying a Cardinals game. Winners will be selected randomly from all eligible entries and will win tickets to either the Cards/Brewers game or the Cards/Padres game as well as a trip on the Eckert's Farm Team hayride. The contest submission period is open until 11:59PM on July 23, 2019.
The tractor will be driven by the President of Eckert's Farms, Chris Eckert. "We're excited to be partnering with the Cardinals on such a unique event. As a huge Cardinals fan, it's a great honor to be able to take part in the opportunity of a lifetime" said Eckert. He continued: "Being able to take the field in one of my family's tractors in front of the thousands of Cardinals fans is an amazing experience and I'm glad we're able to take a few of those fans along for the ride."
Starting as a simple roadside stand in 1910, the Eckert family now owns and operates farming, entertainment and retail entities in Belleville, Grafton and Millstadt, IL. They have grown from simple fruit orchards into family entertainment centers that feature special children's activities, annual events, festivals and the Eckert's Country Store and Restaurant.