Weakland Farms Corn Maze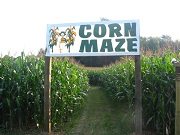 The corn maze is a fun activity to welcome in the fall season. Enjoy the fresh air as you stroll through an actual home grown corn field. Weakland Farms' corn maze is a mile and a half, six acre field comprised of eight feet tall field corn. Paths, which measure 48 inches wide, are cut in the corn to complete a specified design. Stations with questions are hidden throughout the maze to provide a challenging yet fun experience. The questions are usually general knowledge, simple enough for kids to answer. Allow yourself at least an hour to answer the questions, complete the maze, and enjoy the outdoor experience.
Latest Reviews
There are no reviews for this listing yet!